Undercover ATF Agent and Bestselling Author of "No Angel" and "Catching Hell"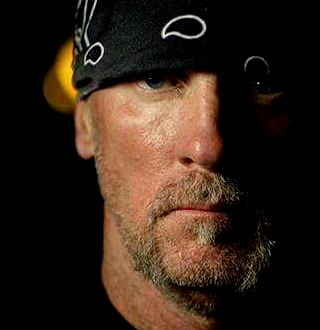 Undercover ATF Agent and Bestselling Author of "No Angel" and "Catching Hell"
Biography
Topics
Videos
Testimonials
Store
Biography
Jay Dobyns achieved worldwide notoriety as one of history's most successful undercover operators during high-octane missions targeting America's violent crime.
Before becoming a federal law enforcement agent, Jay was a standout athlete at the University of Arizona where he played football. He became an All-Pacific-10 conference wide receiver, College Football All-American Candidate at Wide Receiver and was named to Arizona Wildcats "All-Century" football team. In 2012, Dobyns was named the "#1 Badass Arizona football player in history" by the Tucson Citizen newspaper. Dobyns graduated with a bachelor's degree in Public Administration. After college, he played briefly in the Canadian Football League and the United States Football League.
As an ATF undercover agent, he often played the role of a calculating hitman or mob debt collector. He infiltrated scores of deadly criminal enterprises while living among violent gangs, anti-government extremists, gunrunning groups, drug traffickers, organized crime members, bomb builders, home invasion robbery crews and "murder-for-hire" suspects. He participated in over 500 covert operations.
"In the 35-year history of The City Club of San Diego and more than 1,000 lecturers, we've not had a more compelling speaker than Jay Dobyns. There's a dark side in America where people's lives are ruined by drugs and violence. Jay Dobyns, in dramatic fashion, reveals that world and the threat it poses. He lived it as an undercover agent and the story he tells is unforgettable."

–George Mitrovich, President, The City Club of San Diego
Jay is perhaps best known for his landmark efforts to infiltrate the notorious Hells Angels Motorcycle gang. Over a two-year period, he was the first-ever law enforcement officer to defeat the gang's multi-layered security measures to become a member of their legendary Skull Valley charter. Jay's recounts this operation in his New York Times and international best selling book; No Angel: My Harrowing Undercover Journey to the Inner Circle of the Hells Angels
." Jay's second award-winning book; Catching Hell: A True Story of Abandonment and Betrayal
," chronicles his life and career.
"Jay Dobyns brought down the house with an incredible speech at our client summit. There was not a dry eye in the house by the time he was finished. I know because I was there. Huge thumbs-up."

–David Deal, Vice-President, Razorfish Marketing Agency
His awards include the United States Attorney General's Medal of Valor, twelve ATF Special Act Awards, two ATF Gold Stars for critical injuries received during investigative operations, an ATF Distinguished Service Medal for outstanding investigative accomplishment, the ATF Academy's Eddie Benetez award honoring exceptional physical fitness, the International Narcotics Officers Association Medal of Valor, the National Association of Police Officers "Top Cop" Award, the International Outlaw Motorcycle Gang Investigators Association Undercover Achievement Award, and the Australian Law Enforcement Practitioners Significant Infiltration Award.
He is a law enforcement trainer, a consultant to the film and television industry, and a high school football coach.
Topics
Videos
Testimonials
Store