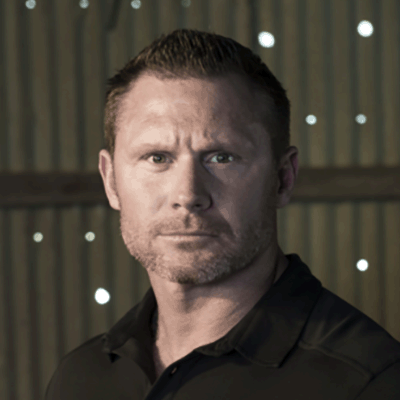 Biography
Ray "Cash" Care is a 12-year veteran of the United States Navy, 10 years of which were spent serving as a member of the SEAL teams. After serving with the SEALs, Ray continued to serve his country for eight years as an overseas security officer for government agencies.
With his specialized skill set, Ray deployed to remote areas around the world in the continuing efforts in the war against terrorism. Ray infuses his training sessions with life experiences and knowledge, that which cannot be learned from a book. Knowledge amassed through grit. He brings action with both didactic and physical components. With the physical and mental fortitude of a SEAL, Ray has transformed the lives of men and women across the nation with not only tactical, but also practical seminars. Think, then execute. "I use my skill set to MOTIVATE, EDUCATE, AND DECIMATE individuals from troubled teens to NFL super stars. I also have and currently work with the UCLA Bruins football team. I am their motivational guest who also utilizes extreme PT to make them push their limits to the breaking point. Just a guy who has taken my own hardships and channeled that into positive energy. I am direct, honest and to the point. I am a hard charger and get things done.
My definition of SUCCESS is my ability to help others help themselves." In summary, I am the definition of adventure. From driving tanks and skydiving at altitudes of 25,000 feet full combat gear in the dark, to ice climbing in the mountains of Albany, to "The Running of the Bulls" in Spain, to covert missions both above and below the seas, to visiting every major continent except the Orient and Australia, and the list goes on for hours. I have been there and killed, defeated, conquered, and accomplished the most dangerous and rigorous adventures known to man. With that being said, whatever you have in store as far as adventure is concerned, remember I eat adventure for Breakfast. FILM 2013, Feature Film, Captain Phillips, Paul Greengrass, Role: SEAL Team 6 Operator TELEVISION 2016, The Selection, Role: Navy SEAL/Instructor 2015, Special Forces: Ultimate Hell Week, Role: Navy SEAL/Himself Selection 2013, Ultimate Soldier Challenge, Role: Navy SEAL/Himself SKILLS Motivational speaker/Mentor/Instructor. I break individuals down and rebuild them. Military Training: Navy SEAL 12 years, Government Contractor 8 years.
Topics
Videos